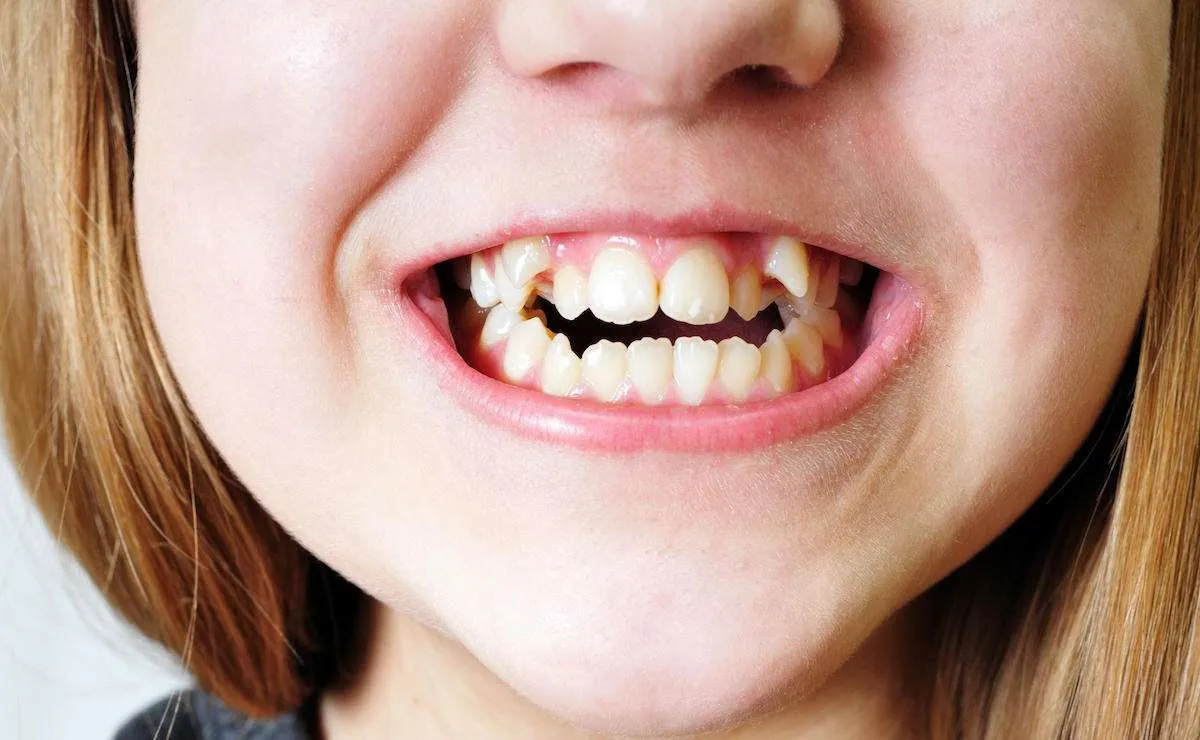 13 Jun

Top 4 Solutions for Crooked Teeth
Many people with crooked teeth would like to fix them because they don't like the look of their crooked smiles.
But crooked teeth can cause problems far beyond the merely aesthetic – they can harm your oral health.
Missing teeth provide nooks and crannies for bits of food to hide in, giving hiding places for tartar buildup, making your teeth harder to keep clean, and even affecting your ability to speak and eat!
Whatever motivations are driving you to straighten your crooked teeth, you'll be glad to know that Deer Park Dental Surgery has many ways to help.
Here are four of our most popular.
Dental Braces
These are the traditional tools of tooth straightening, but modern braces are more comfortable, less obvious, and more effective.
And while we tend to think of dental braces as for children, they can be used on adults as well!
Dental braces offer corrective treatment for:
Crooked or overcrowded teeth
Excessive gap between teeth
Severe overbite or overjet
Severe underbite
Misaligned jaw
Braces move teeth by applying steady pressure over time to move teeth to their desired position and alignment.
As the braces move teeth, the jawbone surrounding them slowly changes shape to support the new positions.
More about Dental Braces at Deer Park Dental Surgery
Invisalign®
Invisalign® is a modern and quite popular orthodontic treatment for patients with irregular bites, poor alignment, or irregular teeth.
Invisalign aligners are custom-made for each patient and are transparent, meaning they are nearly invisible to observers.
What can Invisalign® treat?
Gapped teeth. Gaps can be anywhere in the mouth, but they are most noticeable when between the two upper front teeth.
Crossbite. This is a form of malocclusion where a tooth (or teeth) has a more buccal (closer to the cheek) or lingual (closer to the tongue) position than its corresponding opposite tooth in the upper or lower dental arch.
Open bite. An open bite is a term used to describe when the upper and lower teeth are unable to meet with each other when the jaws are closed.
Crowded teeth. Crowded teeth are common in adults and children. The teeth overlap and twist.
The jaw may be too small for the teeth, or the teeth may be unusually large. If left untreated, teeth crowding can lead to crooked teeth.
Overbite. An overbite is when your upper jaw overlaps your lower jaw.
Underbite. An underbite is when your lower teeth extend outward farther than the upper front teeth.
Advantages of Invisalign® include:
Invisalign® aligners look better. Metal braces can be clunky and unattractive.
They are noticeable and can get food caught in them without the wearer even being aware of it. Invisalign® clear braces are barely noticeable.
Invisalign® aligners can be removed. Braces remain in place until treatment ends. 
Invisalign® aligners are removable for cleaning, eating, sports, playing some musical instruments, or for any other reason.
Reduced damage to teeth and gums. Invisalign® aligners have no wire or protruding bits that can scratch, puncture, or cut the soft tissues of the mouth.
More about Invisalign® at Deer Park Dental Surgery
Veneers & Bonding
Here we move away from treatments that move your teeth, to procedures that cover up misaligned teeth.
Veneers are used in cases where the effects of the crooked teeth are primarily aesthetic.
If your teeth are so crooked that they are risks to dental health, veneers are not the right choice.
Minor misalignment? Veneers might help!
If your teeth are only slightly crooked, and no issues with your bite are present, it's entirely possible that porcelain veneers can be the answer to your crooked smile.
Veneers will reshape the surfaces of your teeth, making them look like they're perfectly straight — no braces required!
Porcelain veneers are a great way to straighten the appearance of teeth without braces, but there is one other cosmetic option to consider.
Some people select dental bonding for minor misalignments. Dental bonding can look great, costs less than veneers, but isn't as long-lasting.
As with all dental treatments, a consultation will help clear up what the best choice is for you.
More about Veneers at Deer Park Dental Surgery
Dental Implants
Dental implants don't necessarily correct crooked teeth, but they can help prevent crooked teeth from occurring if a tooth or teeth are lost.
When a tooth is lost, the bone beneath it begins to weaken, and at the same time, the teeth surrounding the gap can start to move into the newly cleared space.
This leads to crooked teeth all around. So, if you lose a tooth, consider implants to protect yourself from crooked teeth!
More about Dental Implants at Deer Park Dental Surgery
The Deer Park Dental Difference
Deer Park Dental Surgery gives outstanding patient care and customer service to the expanding community of Deer Park and its environs.
We are conveniently located in a busy medical centre in Brimbank Shopping Centre. We are open on Saturdays to cater to your family needs and patients with busy schedules.
Parking is hassle-free.
Deer Park dentist also serving local communities in Albanvale, Kings Park, Cairnlea, St Albans, Ardeer, Albion, Sunshine West, Derrimut, Burnside and Caroline Springs.
GAP FREE for New Patients
Comprehensive Check Up, Clean & X-rays (if needed)
(with any health insurance)
At Deer Park Dental Surgery, our goal is to make quality dental care affordable. To find out more, call us on (03) 9360 4417 or make an appointment online.
We are located at T097a Brimbank Shopping Centre Neale Road in Deer Park.